About Us
Trusted Family Business in Tuscaloosa, Alabama
Meet the Innkeepers
Marc & Kim Roberts are both 28-year veteran teachers that are now retired from teaching.  They embarked on a new adventure many years ago as B&B owners, and Game-Day property managers.  Their success with this new adventure led them to an early retirement so that they could allow the business to grow.  That growth now includes their Bama Lakeside Retreat, their campus B&B, and over 40 Game-Day rental homes that they manage - the only game-day managers in Tuscaloosa!
Marc & Kim have an interesting history!  They met when Kim was just 16 years old, and dated for 3 years with Kim in Chicago, and Marc in Tuscaloosa.  This is even more impressive when you realize that this was back in the days of no cell phones or emails!  Eventually, Kim came to the great UofA to attend college, and the two of them married after graduation.  They settled in Tuscaloosa to begin their teaching careers, and to work as youth directors at their church, Trinity United Methodist.  In the early years of their marriage, they also became foster parents to 25 foster children, eventually adopted 3 of these foster children, and then had 2 birth children.  On December 16th of 2000, at 1:05pm, their home sustained a direct hit by an F-4 tornado while they huddled in a closet with their children.  After surviving this terrifying event, they gathered up their children and belongings, headed to a new part of Tuscaloosa, and built their dream house on a small private lake south of town - and far away from the visual destruction of the tornado.  A mere 4 years after their beautiful new home was completed, it was destroyed by fire at 3:30am on Oct. 12th, 2006 by a squirrel that caused an electrical fire.  The house had to be bull-dozed and completely rebuilt, but the entire family just put on their marching boots and marched forward with the rebuilding of their new home, and were able to return back home just one year later.  This was not the end of their excitement, though.  They had a rental house destroyed by a fire in 2008, and 3 other rental houses sustained significant damage during the April 2011 tornado outbreak.  They have justifiably earned the label as "The Disaster Family!"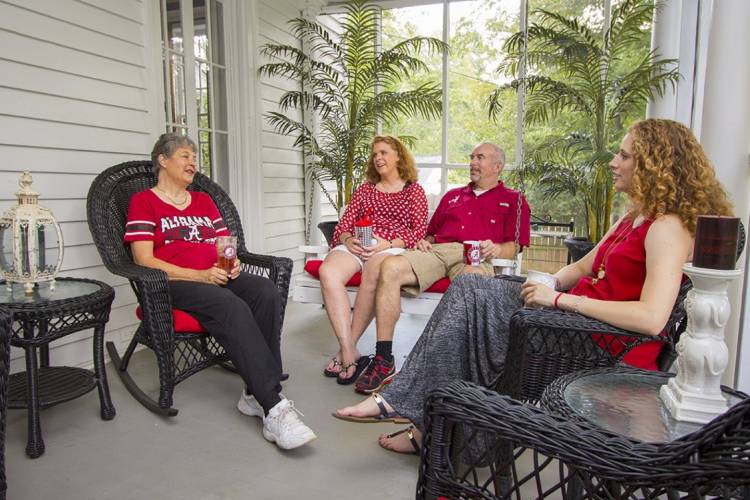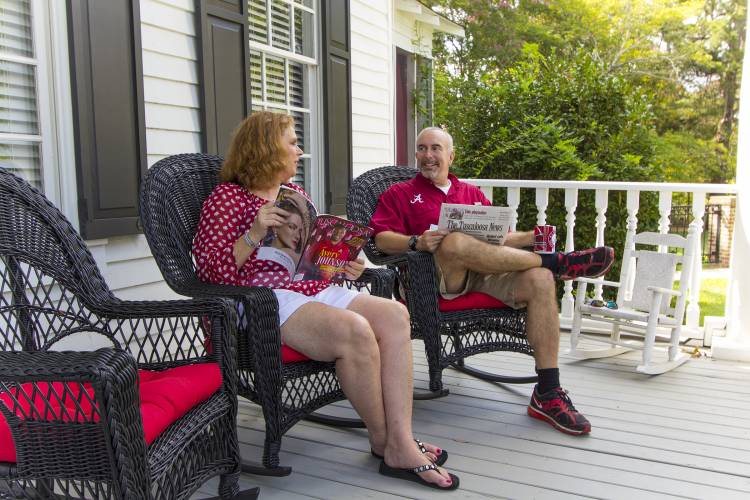 Despite these many losses, Marc, Kim, and their children continued to love hosting visitors in the home.  Some of their former guests include Hurricane Katrina Victims, and foreign guests they hosted through the University of Alabama's Foreign Language Department.  These adventures, as well as their first stay in a B&B in Hawaii with their kids, led them down the path to eventually starting their own bed and breakfast here in Tuscaloosa.
The Bama B&B is a true family affair!  Each of their 5 children help out in various ways with the B&B whenever possible.  Melissa, the oldest daughter, lives in Georgia with her husband, and she helps out remotely whenever her computer expertise is needed.   Amy, their 2nd oldest, passed away on May 15, 2020 from cancer.  Amy loved helping at the B&B, so she is missed every single day.  Amanda is Autistic and lives at home helping as Mom's "sous-chef" for breakfast most mornings.  Kristina graduated from UofA, and she now works full-time as the company's office manager. Kristina and her husband have 2 little boys - the only grandchildren of Marc & Kim.  William, the baby of the family, and only boy, graduated from Middle Tennessee State University's Aerospace/Professional Pilot degree program and is now working as a commercial airline pilot. He lives with his wife in the Nashville area.  Kim's parents, Bob & Yvonne, provide the yummy home-made cookies enjoyed by guests every week!
So, come for a visit soon, and you'll get to meet many of the family members during your stay!

Videos about the Bama B&B: